About us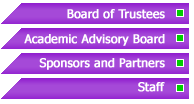 &nbsp Academic Educational Forum on International Relations is a non-profit organization with the mission to promote education and research initiatives in the field of International Relations, Security and Political Science aimed at strengthening Russia's community of IR scholars and professionals.
Our major goal is to support scholars and educators in Russia's regions and CIS nations in achieving maximum personal and academic independence and developing their professional skills and research agendas. We seek to ensure conformity of Russian degrees and the quality of training in Political Science and International Relations to the most advanced international standards thereby providing for the «international convertibility» of Russian experts.
Western methodology and vast teaching and research experience in the field of Political Science can reinforce the intellectual potential of young Russian scholars. This, in turn, could spark innovative approaches to studying and teaching International Relations. Therefore, the Forum seeks to facilitate exchange in ideas and research results among regional universities and ensure attention toward these results, as well as their authors, on the part of leading Moscow-based experts, universities and think-tanks involved in international studies.
Our projects are grouped into four tracks:
training courses for young scholars and university faculty;


conferences and seminars on research and teaching methodology
and applied issues in international politics;


publishing programs;


networking.
Over the last 3 years, Academic Educational Forum on International Relations has been supported financially by the John D. and Catherine T. MacArthur Foundation, Open Society Institute – Russia, the ISE-Center (Information. Scholarship. Education.) and other grant making institutions. The Forum cooperates with a variety of partner organizations, such as Russian regional universities, the International Institute for Strategic Studies, Danish Atlantic Treaty Association and others.